TradeTech FX Europe
LMAX Exchange is delighted to be sponsoring TradeTech FX Europe taking place in Paris from 12th - 14th September 2023.
Our participation
Cassandra Cox – Director, Institutional Sales of LMAX Digital will join a panel discussion on Thursday 14th September at 12:40pm. The panel will discuss "Evaluating new developments in digital assets: What are the changes that are promoting a safer digital assets ecosystem and improving liquidity to further boost institutional adoption and investor confidence".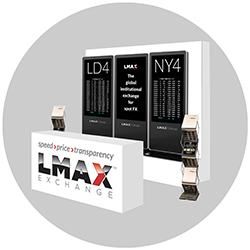 Meet the LMAX Exchange team at the event or get in touch with the LMAX Group team on +1 212 763 4185 or at [email protected].
Location
Palais des Congres, Paris
About the event
Geopolitical instability, rising inflation and diverging central bank policies are causing macroeconomic uncertainties that are driving up market volatility. Find out how to best navigate the impact on your FX desk by joining the biggest buy side FX conference.
Find out more >