LMAX Exchange celebrates Asia success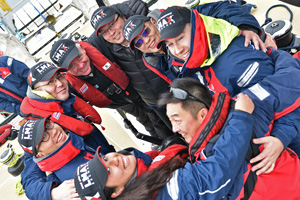 Qingdao, China, 21 March 2016 – Team LMAX Exchange, currently leading the Clipper 2015-16 Round the World Yacht Race (one of the toughest endurance sailing challenges on the planet), celebrated its arrival into Qingdao, China this week, by holding a unique Asia based Client appreciation day.
One of the UK's leading financial technology firms, LMAX Exchange invited a select group of 80 clients from the Asia region to meet, sail and celebrate with the Skipper and crew of its race team.
Guests, including Mr. He YuYing, Director of Capital Markets from the Qingdao Financial Affairs Office, Ms. Li Ming, Head of Wealth Management Co-operation Department of Qingdao, Clipper Race Founder Sir Robin Knox-Johnston and clients from all over Asia, were addressed by LMAX Exchange CEO, David Mercer, who said: "At LMAX Exchange we're passionate about financial technology and we are serious about ambition and success. Asia is a vital market for our business and with so many important clients based in the region, we felt this would be a fitting location to celebrate the success of Team LMAX Exchange together with our valued clients in a unique and inspirational way."
He added: "The Clipper Round the World Yacht Race is proving to be the perfect vehicle for showcasing the LMAX Exchange brand values of ambition, teamwork and innovation within a dynamic and challenging environment. And now as Team LMAX Exchange heads homeward from Qingdao we hope to continue to build on our success so far."??
Ahead of the formal business reception, guests were invited to change into ocean racing attire and become race crew for the afternoon aboard the LMAX Exchange yacht. Starting out from the Qingdao Olympic Marina, Skipper Olivier Cardin and his race crew put the guests to work and provided a real taste of life aboard an ocean racing yacht.
The Clipper Round the World Yacht Race is one of the biggest challenges of the natural world and an endurance test like no other. Starting and finishing in London, over 700 international crew compete in a matched fleet of twelve 70 foot racing yachts. It takes eleven months to complete the 40,000 nautical mile course in a series of 14 races between six continents. Along the way, crews endure Mother Nature's toughest and most unpredictable weather conditions in some of the planet's harshest environments.
Currently, Team LMAX Exchange leads the overall race standings following an impressive six podium finishes, including four 1st place victories out of the eight races so far. Since Race Start in London in August 2015, the teams have raced to Rio de Janeiro, Cape Town, Sydney, Hobart, the Whitsundays, Da Nang – Vietnam and Qingdao, China.
Clipper Race Chairman Sir Robin Knox-Johnston, the first man to sail solo, non-stop around the world in 1969, said: "As a first time Team Sponsor of the Clipper Race, I have been impressed at how well Team LMAX Exchange has embraced the adventurous spirit and competitive nature of the Clipper Race. A powerful blend of intense competition and human endeavour, the Clipper Race attracts sponsors and crew alike who share a desire to compete and push boundaries.
?"LMAX Exchange has aligned fully with the race's strong teamwork values, and this leads from the top, which was proven without doubt when CEO David Mercer opted to join the team for the Sydney Hobart Race. With over four months and five races still remaining, this commitment will no doubt support and inspire the LMAX Exchange team in its aim to maintain the race lead back to London."??
The Clipper Race stopover in Qingdao marks the end of Race 8 of the 14-stage global challenge. Race 9 to Seattle, USA sets sail on 20 March and will take teams almost 6000 nautical miles across the Pacific Ocean, the largest expanse of water on the planet, which is expected to take 31 days to complete. The Clipper 2015-16 Race will return to London's St Katharine Docks, with a triumphant Thames River parade set to take place on Saturday 30 July 2016.
Download as a PDF –

Download PR images – Image 1 | Image 2 | Image 3
Media Contacts
For interviews and further press info, please contact:
Seven Hills (London):
Nick Taylor T: +44 20 7199 6185 E: [email protected]
LMAX Exchange (London):
Barbara Pozdorovkina T: +44 20 3192 2510 E: [email protected]
About LMAX Exchange
LMAX Exchange Group is a dynamic, visionary and award-winning financial technology company. Recognised as one of the UK's fastest growing technology firms, LMAX Exchange is leading the transformation of the global FX industry to transparent, fair, precise and consistent execution. Operating one global marketplace for trading FX, metals, indices and commodities, LMAX Exchange delivers open access, transparency and a level playing field to all market participants.
LMAX Exchange Group offers all clients the ability to trade on LMAX Exchange central limit order book, driven by streaming no 'last look' limit-order liquidity from top tier banks and non-bank financial institutions. Servicing funds, banks, brokerages, asset managers and proprietary trading firms, LMAX Exchange offers an anonymous, regulated, rules-based trading environment, order execution in strict price/time priority, and access to real-time streaming market and trade data, enabling all market participants to control execution quality and total trading costs.
Offering a comprehensive range of instruments and ultra-low latency execution, LMAX Exchange operates a global FX exchange infrastructure with matching engines in London, New York and Tokyo.
LMAX Exchange - a unique vision for global FX.
2022 - 2021
2020 - 2019
2018 - 2017
2016 - 2015
2014 - 2013
2012 - 2011
LMAX Exchange Group is the holding company of LMAX Limited and LMAX Broker Limited.
LMAX Exchange is a trading name of LMAX Limited, which operates a multilateral trading facility, authorised and regulated by the Financial Conduct Authority (firm reference number 509778) and is a company registered in England and Wales (number 6505809).
LMAX Global is a trading name of LMAX Broker Limited which is authorised and regulated by the Financial Conduct Authority (firm reference number 783200) and is a company registered in England and Wales (number 10819525).